The best parts of modern desk lamp design combined to create the NOVA. Spun metal shade to house a standard A60 globe attached by a saddle deco and a half flexi arm for adjustment. On/off rocker switch located on the lamp base. Also available as floor lamp.
Regular price
RRP
$124.00
/
---
Telbix is a direct wholesaler. If you're interested in purchasing one of our products as an individual, please visit one of our excellent authorised distributors.
FIND AUTHORISED DISTRIBUTOR
Are you interested in purchasing Telbix products as a business?
DEALER LOGIN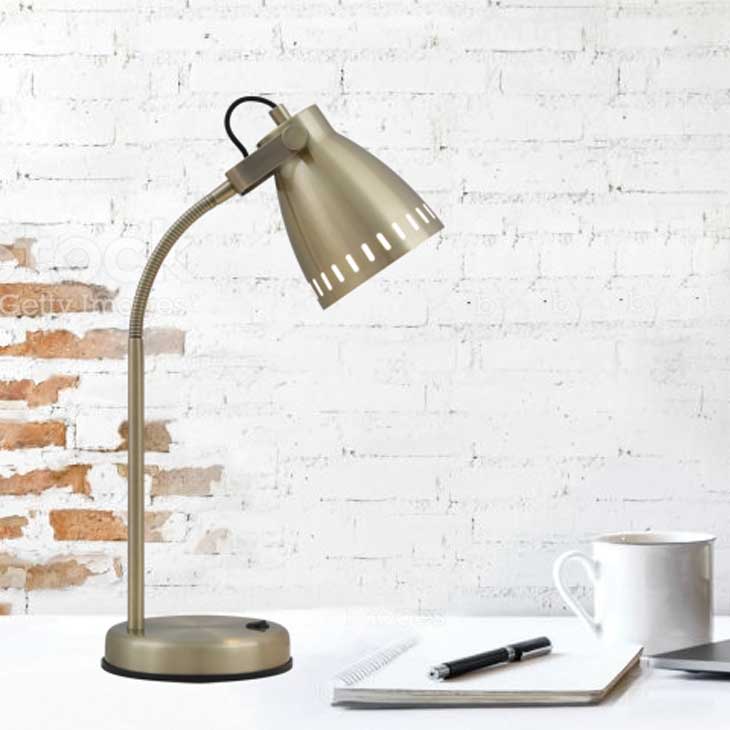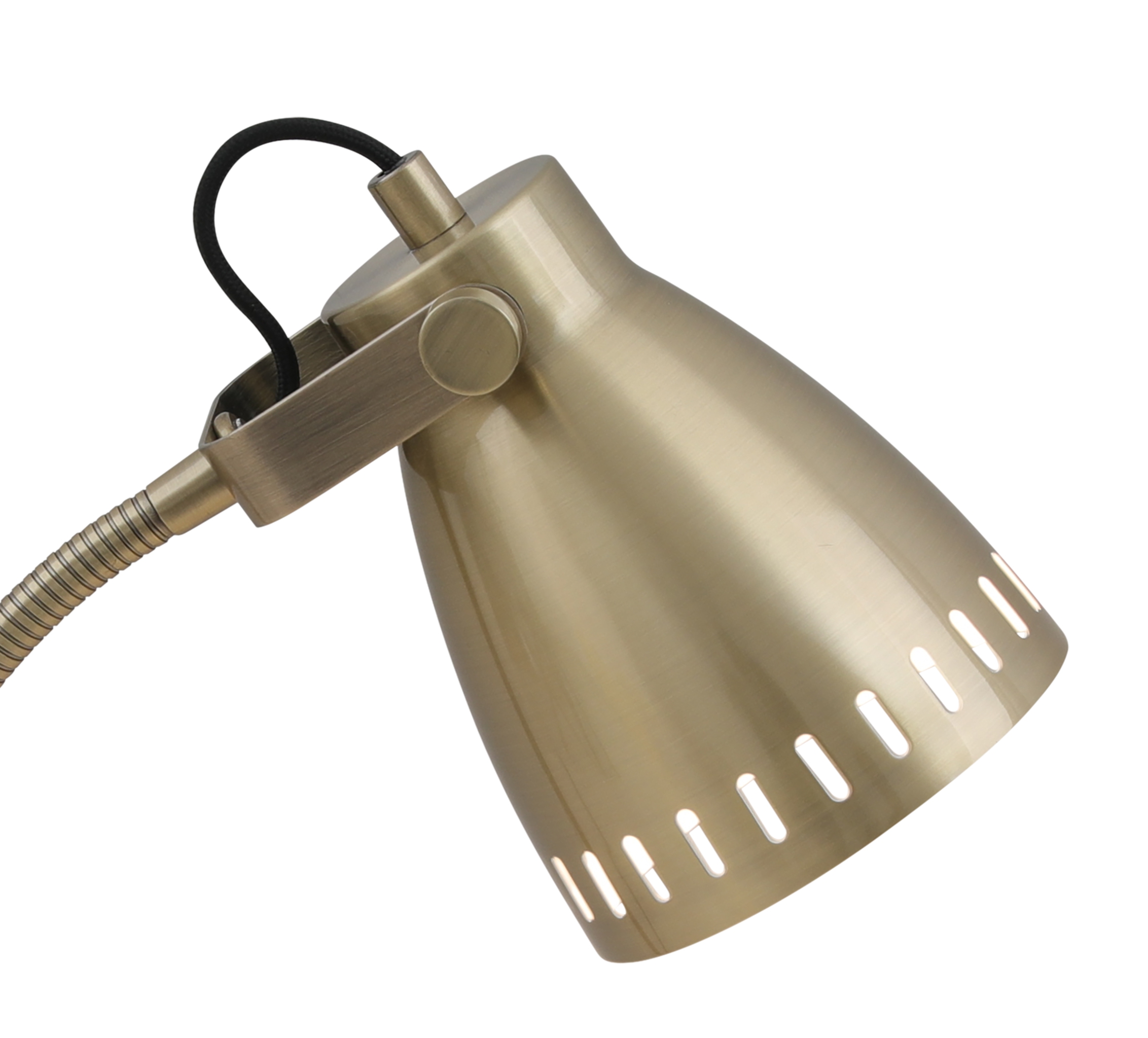 Colour and Material

Fixture Color

: Antique Brass

Fixture Material

: Metal

Base Color

: Antique Brass

Base Material

: Metal

Cable Color

: Black

Cable Material

: PVC

Shade Color

: Antique Brass

Shade Material

: Metal
Size

Fixture Height (cm)

: 53.90

Fixture Length (cm)

: 29.00

Fixture Width (cm)

: 15.20

Base Diameter (cm)

: 15.20

Base Height (cm)

: 2.00

Cable Length (cm)

: Button Switch (Base) + 180

Shade Diameter (cm)

: 14.00

Shade Fitting

: E27 (42mm HOLE)
Specifications

Approvals

: RCM

Dimmable

: Globe Dependant

Electrical Protection

: CLASS II - DOUBLE INSULATED, EARTH NOT REQUIRED

Globe / Light Source qty

: 1

Globe Type

: E27

IP Rating

: IP20

Wattage (max)

: 25
Product Maintenance

Care Instructions

: Do not use strong liquid cleaners,Wipe clean with a dry cloth
Dimensions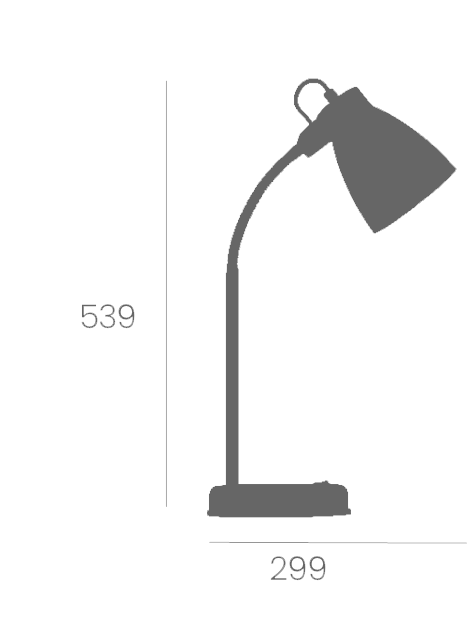 Downloads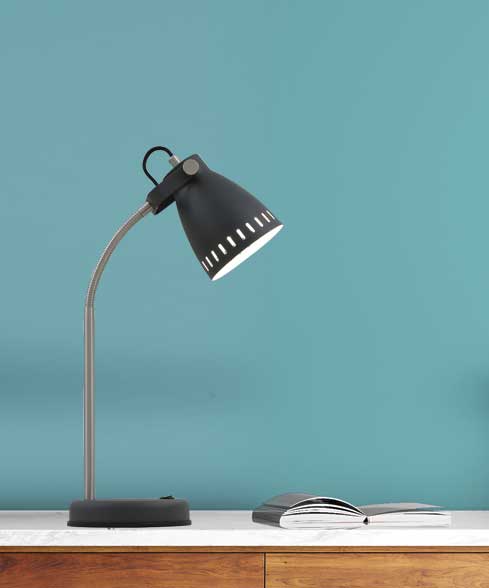 Colour and Material

Fixture Color

: Dark Grey

Fixture Material

: Metal

Base Color

: Dark Grey

Base Material

: Metal

Cable Color

: Black

Cable Material

: PVC

Shade Color

: Dark Grey

Shade Material

: Metal
Size

Fixture Height (cm)

: 53.90

Fixture Length (cm)

: 29.00

Fixture Width (cm)

: 15.20

Base Diameter (cm)

: 15.20

Base Height (cm)

: 2.00

Cable Length (cm)

: Button Switch (Base) + 180

Shade Diameter (cm)

: 14.00

Shade Fitting

: E27 (42mm HOLE)
Specifications

Approvals

: RCM

Dimmable

: Globe Dependant

Electrical Protection

: CLASS II - DOUBLE INSULATED, EARTH NOT REQUIRED

Globe / Light Source qty

: 1

Globe Type

: E27

IP Rating

: IP20

Wattage (max)

: 25
Product Maintenance

Care Instructions

: Do not use strong liquid cleaners,Wipe clean with a dry cloth
Dimensions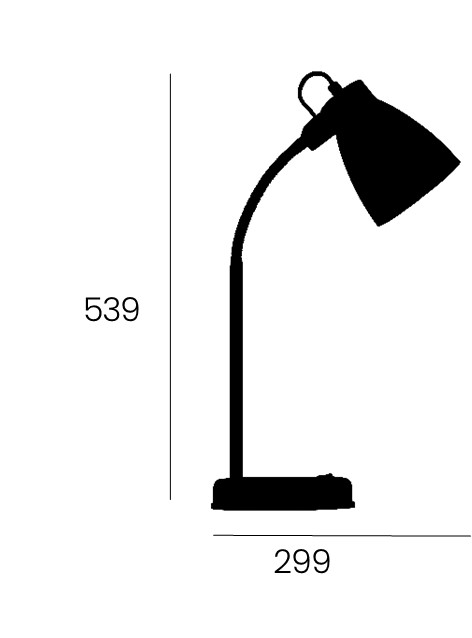 Downloads
Colour and Material

Fixture Color

: Blue

Fixture Material

: Metal

Base Color

: Blue

Base Material

: Metal

Cable Color

: Black

Cable Material

: PVC

Shade Color

: Blue

Shade Material

: Metal
Size

Fixture Height (cm)

: 53.90

Fixture Length (cm)

: 29.00

Fixture Width (cm)

: 15.20

Base Diameter (cm)

: 15.20

Base Height (cm)

: 2.00

Cable Length (cm)

: Button Switch (Base) + 180

Shade Diameter (cm)

: 14.00

Shade Fitting

: E27 (42mm HOLE)
Specifications

Approvals

: RCM

Dimmable

: Globe Dependant

Electrical Protection

: CLASS II - DOUBLE INSULATED, EARTH NOT REQUIRED

Globe / Light Source qty

: 1

Globe Type

: E27

IP Rating

: IP20

Wattage (max)

: 25
Product Maintenance

Care Instructions

: Do not use strong liquid cleaners,Wipe clean with a dry cloth
Dimensions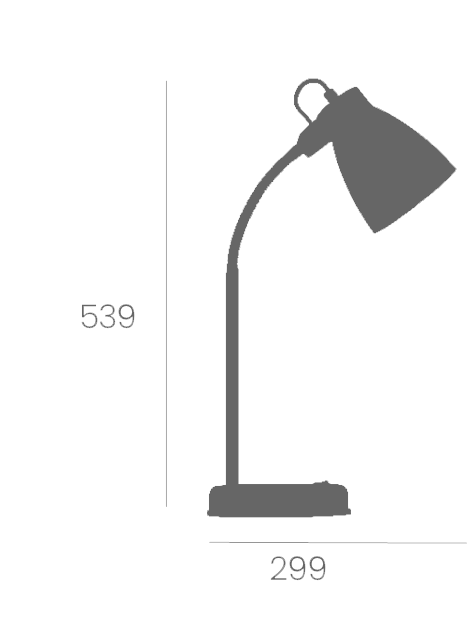 Downloads
Colour and Material

Fixture Color

: Grey

Fixture Material

: Metal

Base Color

: Grey

Base Material

: Metal

Cable Color

: Black

Cable Material

: PVC

Shade Color

: Grey

Shade Material

: Metal
Size

Fixture Height (cm)

: 53.90

Fixture Length (cm)

: 29.00

Fixture Width (cm)

: 15.20

Base Diameter (cm)

: 15.20

Base Height (cm)

: 2.00

Cable Length (cm)

: Button Switch (Base) + 180

Shade Diameter (cm)

: 14.00

Shade Fitting

: E27 (42mm HOLE)
Specifications

Approvals

: RCM

Dimmable

: Globe Dependant

Electrical Protection

: CLASS II - DOUBLE INSULATED, EARTH NOT REQUIRED

Globe / Light Source qty

: 1

Globe Type

: E27

IP Rating

: IP20

Wattage (max)

: 25
Product Maintenance

Care Instructions

: Do not use strong liquid cleaners,Wipe clean with a dry cloth
Dimensions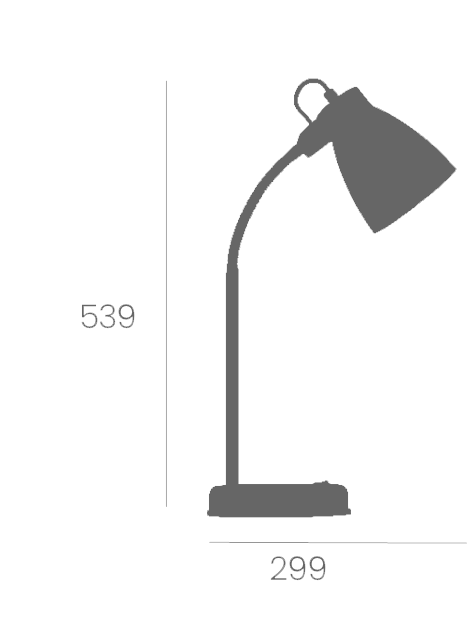 Downloads
Colour and Material

Fixture Color

: Nickel

Fixture Material

: Metal

Base Color

: Nickel

Base Material

: Metal

Cable Color

: Black

Cable Material

: PVC

Shade Color

: Nickel

Shade Material

: Metal
Size

Fixture Height (cm)

: 53.90

Fixture Length (cm)

: 29.00

Fixture Width (cm)

: 15.20

Base Diameter (cm)

: 15.20

Base Height (cm)

: 2.00

Cable Length (cm)

: Button Switch (Base) + 180

Shade Diameter (cm)

: 14.00

Shade Fitting

: E27 (42mm HOLE)
Specifications

Approvals

: RCM

Dimmable

: Globe Dependant

Electrical Protection

: CLASS II - DOUBLE INSULATED, EARTH NOT REQUIRED

Globe / Light Source qty

: 1

Globe Type

: E27

IP Rating

: IP20

Wattage (max)

: 25
Product Maintenance

Care Instructions

: Do not use strong liquid cleaners,Wipe clean with a dry cloth
Dimensions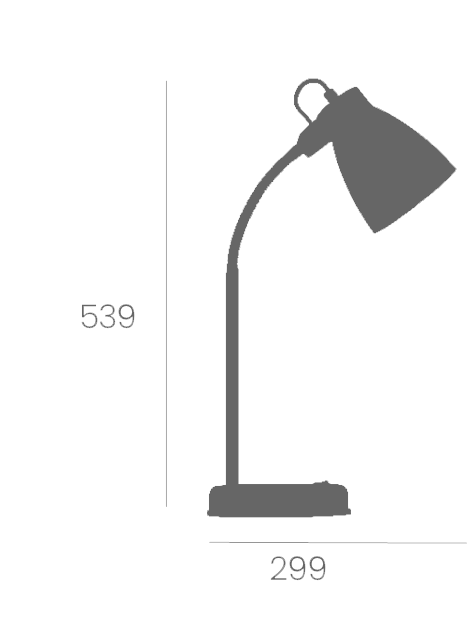 Downloads
Colour and Material

Fixture Color

: Pink

Fixture Material

: Metal

Base Color

: Pink

Base Material

: Metal

Cable Color

: Black

Cable Material

: PVC

Shade Color

: Pink

Shade Material

: Metal
Size

Fixture Height (cm)

: 53.90

Fixture Length (cm)

: 29.00

Fixture Width (cm)

: 15.20

Base Diameter (cm)

: 15.20

Base Height (cm)

: 2.00

Cable Length (cm)

: Button Switch (Base) + 180

Shade Diameter (cm)

: 14.00

Shade Fitting

: E27 (42mm HOLE)
Specifications

Approvals

: RCM

Dimmable

: Globe Dependant

Electrical Protection

: CLASS II - DOUBLE INSULATED, EARTH NOT REQUIRED

Globe / Light Source qty

: 1

Globe Type

: E27

IP Rating

: IP20

Wattage (max)

: 25
Product Maintenance

Care Instructions

: Do not use strong liquid cleaners,Wipe clean with a dry cloth
Dimensions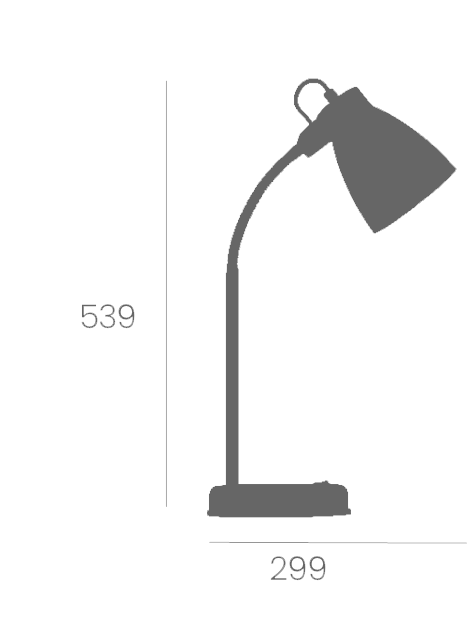 Downloads
Colour and Material

Fixture Color

: White

Fixture Material

: Metal

Base Color

: White

Base Material

: Metal

Cable Color

: Black

Cable Material

: PVC

Shade Color

: White

Shade Material

: Metal
Size

Fixture Height (cm)

: 53.90

Fixture Length (cm)

: 29.00

Fixture Width (cm)

: 15.20

Base Diameter (cm)

: 15.20

Base Height (cm)

: 2.00

Cable Length (cm)

: Button Switch (Base) + 180

Shade Diameter (cm)

: 14.00

Shade Fitting

: E27 (42mm HOLE)
Specifications

Approvals

: RCM

Dimmable

: Globe Dependant

Electrical Protection

: CLASS II - DOUBLE INSULATED, EARTH NOT REQUIRED

Globe / Light Source qty

: 1

Globe Type

: E27

IP Rating

: IP20

Wattage (max)

: 25
Product Maintenance

Care Instructions

: Do not use strong liquid cleaners,Wipe clean with a dry cloth
Dimensions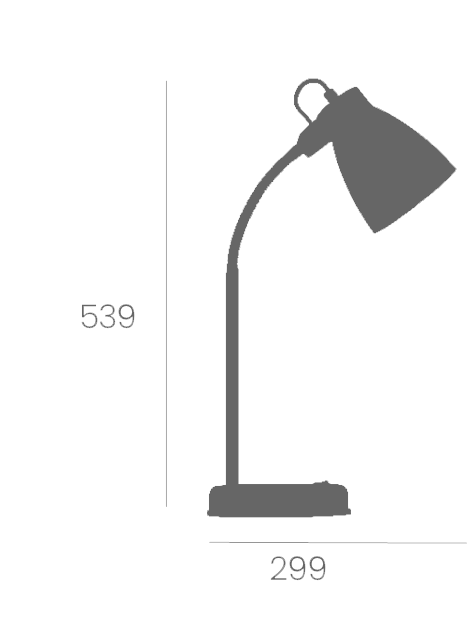 Downloads