The JAXON table lamp is a contemporary tapered fabric shade a top of simple metal base. This lamp is the first choice for decorators to style all types of interiors. Available in the latest on trend colors.
Regular price
RRP
$74.00
/
---
Telbix is a direct wholesaler. If you're interested in purchasing one of our products as an individual, please visit one of our excellent authorised distributors.
FIND AUTHORISED DISTRIBUTOR
Are you interested in purchasing Telbix products as a business?
DEALER LOGIN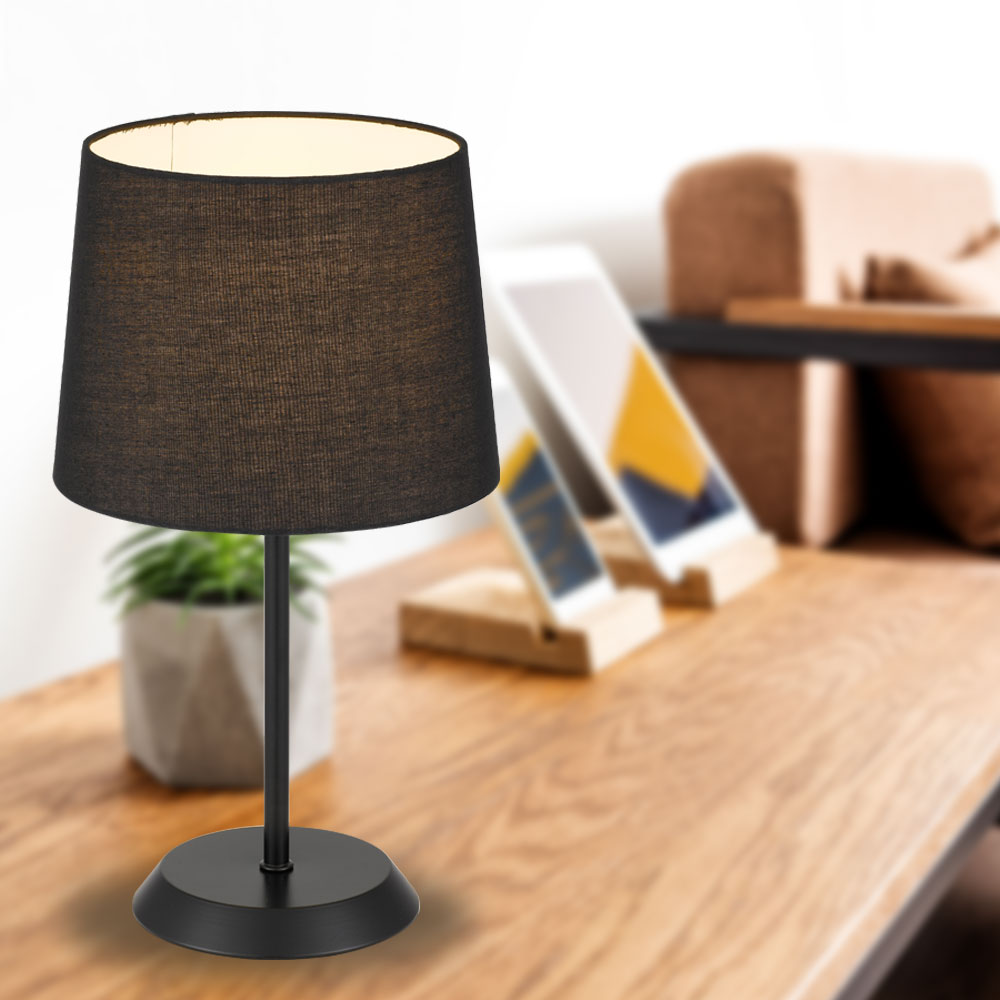 Colour and Material

Fixture Color

: Black

Fixture Material

: Metal,Fabric

Fixture Pantone Color

: RAL 9005

Base Color

: Black

Base Material

: Metal

Cable Color

: Black

Cable Material

: PVC

Shade Color

: Black

Shade Material

: Fabric,Plastic
Size

Fixture Diameter (cm)

: 22.50

Fixture Height (cm)

: 40.00

Base Diameter (cm)

: 15.00

Base Height (cm)

: 2.00

Cable Length (cm)

: 150 (20+Inline Switch+120)

Shade Bottom (cm)

: 22.50

Shade Fitting

: E27 (42mm HOLE)
Specifications

Approvals

: RCM

Dimmable

: Globe Dependant

Electrical Protection

: CLASS II - DOUBLE INSULATED, EARTH NOT REQUIRED

Globe / Light Source qty

: 1

Globe Type

: E27

IP Rating

: IP20

Wattage (max)

: 25
Product Maintenance

Care Instructions

: Do not use strong liquid cleaners,Wipe clean with a dry cloth
Dimensions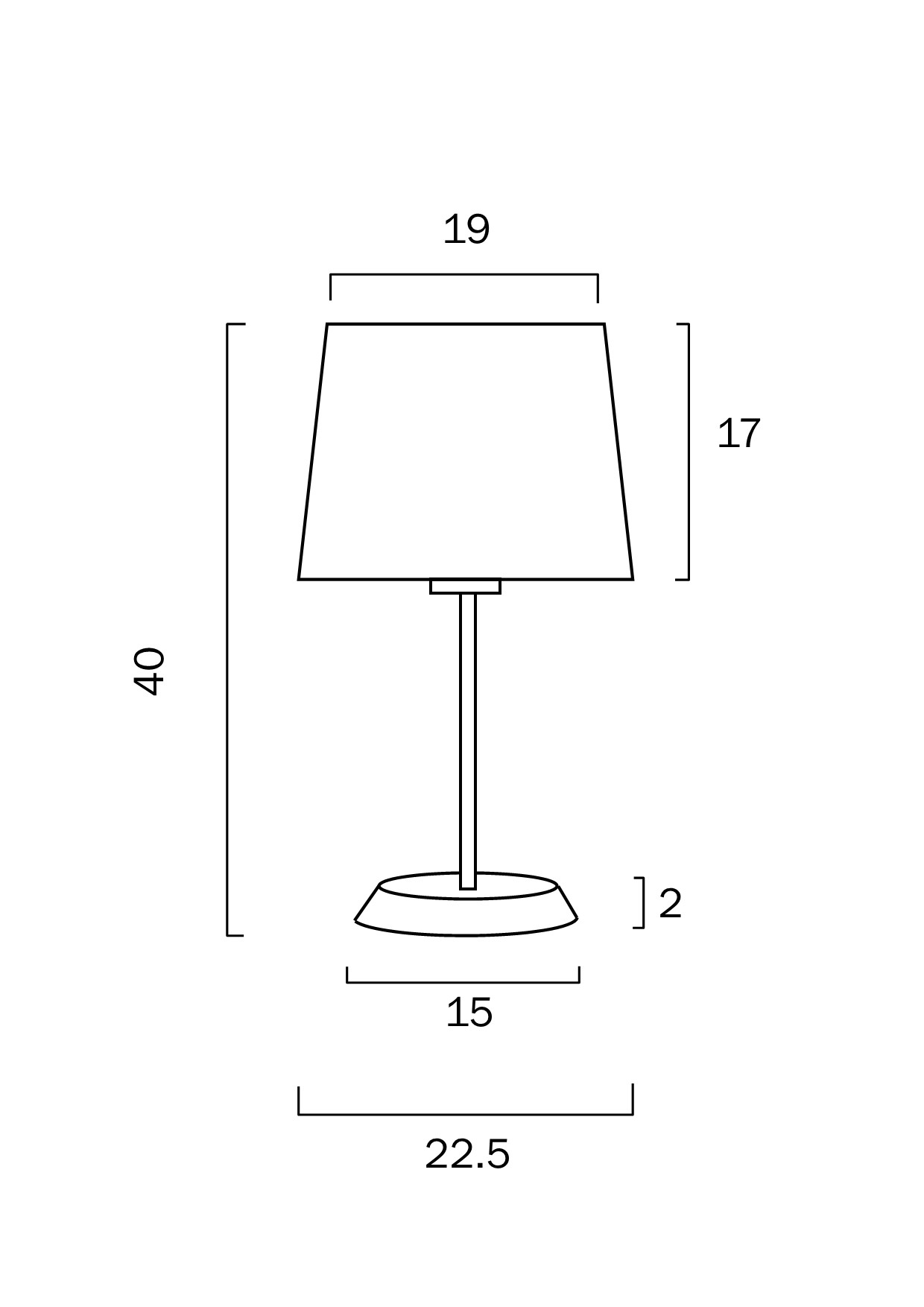 Downloads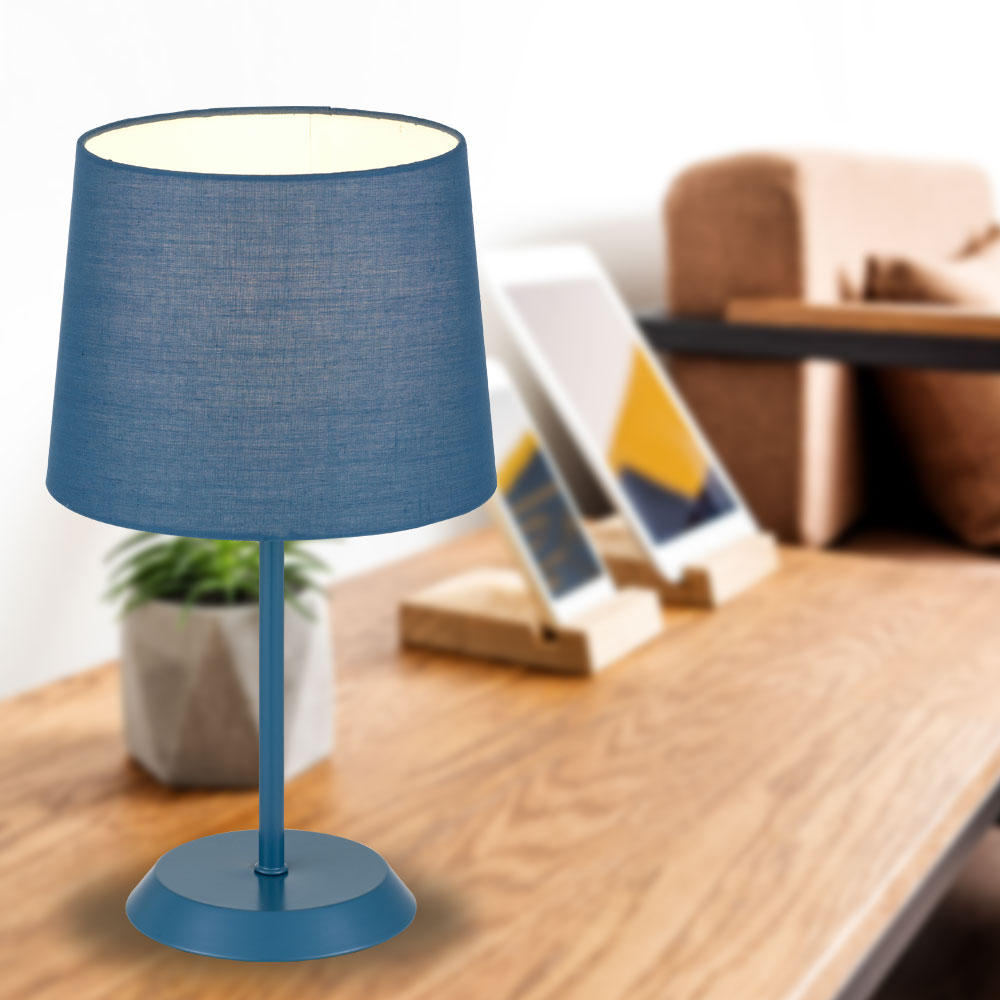 Colour and Material

Fixture Color

: Blue

Fixture Material

: Metal,Fabric

Fixture Pantone Color

: RAL 5009

Base Color

: Blue

Base Material

: Metal

Cable Color

: Black

Cable Material

: PVC

Shade Color

: Blue

Shade Material

: Fabric,Plastic
Size

Fixture Diameter (cm)

: 22.50

Fixture Height (cm)

: 40.00

Base Diameter (cm)

: 15.00

Cable Length (cm)

: 150 (20+Inline Switch+120)

Shade Bottom (cm)

: 22.50

Shade Fitting

: E27 (42mm HOLE)
Specifications

Approvals

: RCM

Dimmable

: Globe Dependant

Electrical Protection

: CLASS II - DOUBLE INSULATED, EARTH NOT REQUIRED

Globe / Light Source qty

: 1

Globe Type

: E27

IP Rating

: IP20

Wattage (max)

: 25
Product Maintenance

Care Instructions

: Do not use strong liquid cleaners,Wipe clean with a dry cloth
Dimensions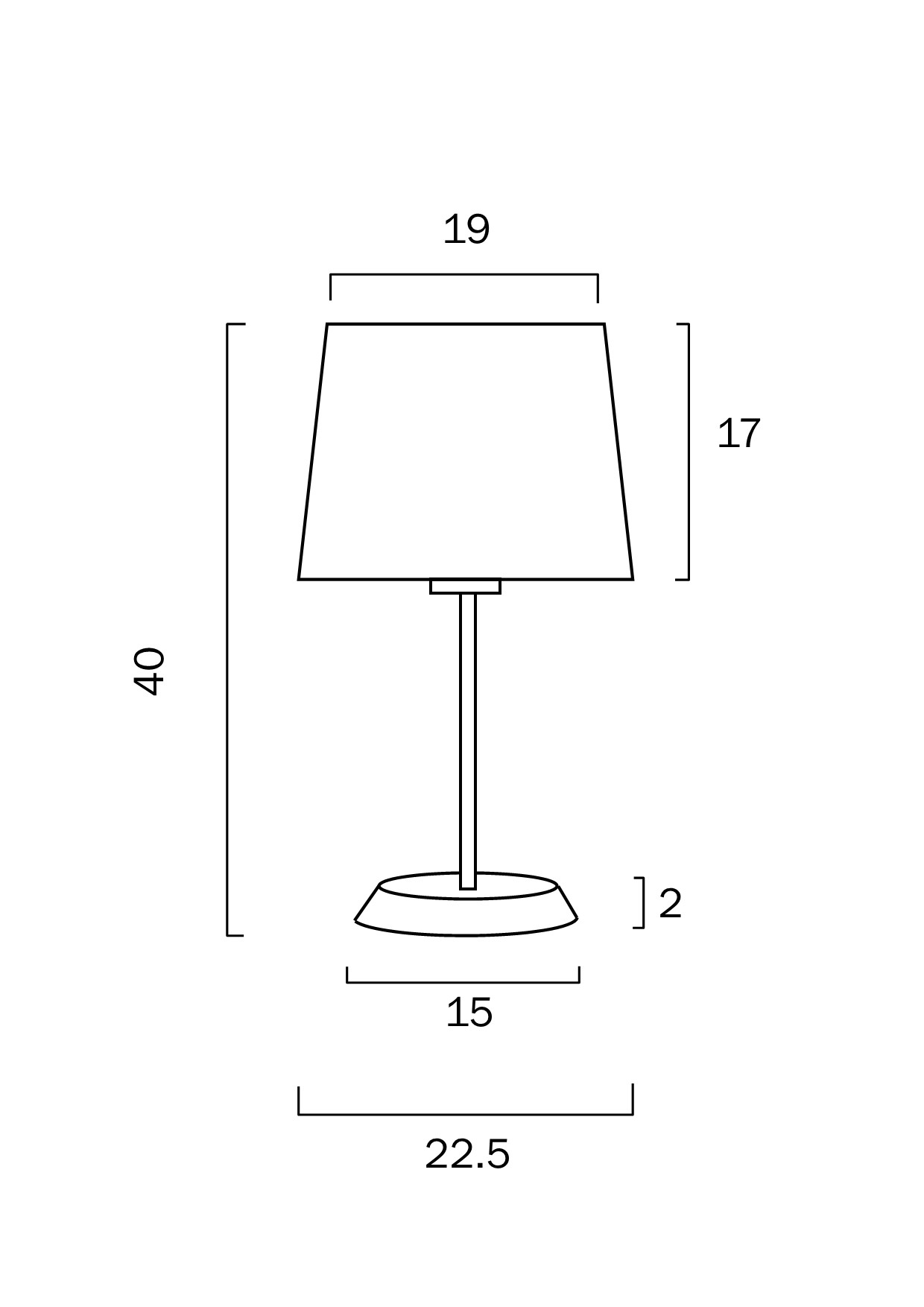 Downloads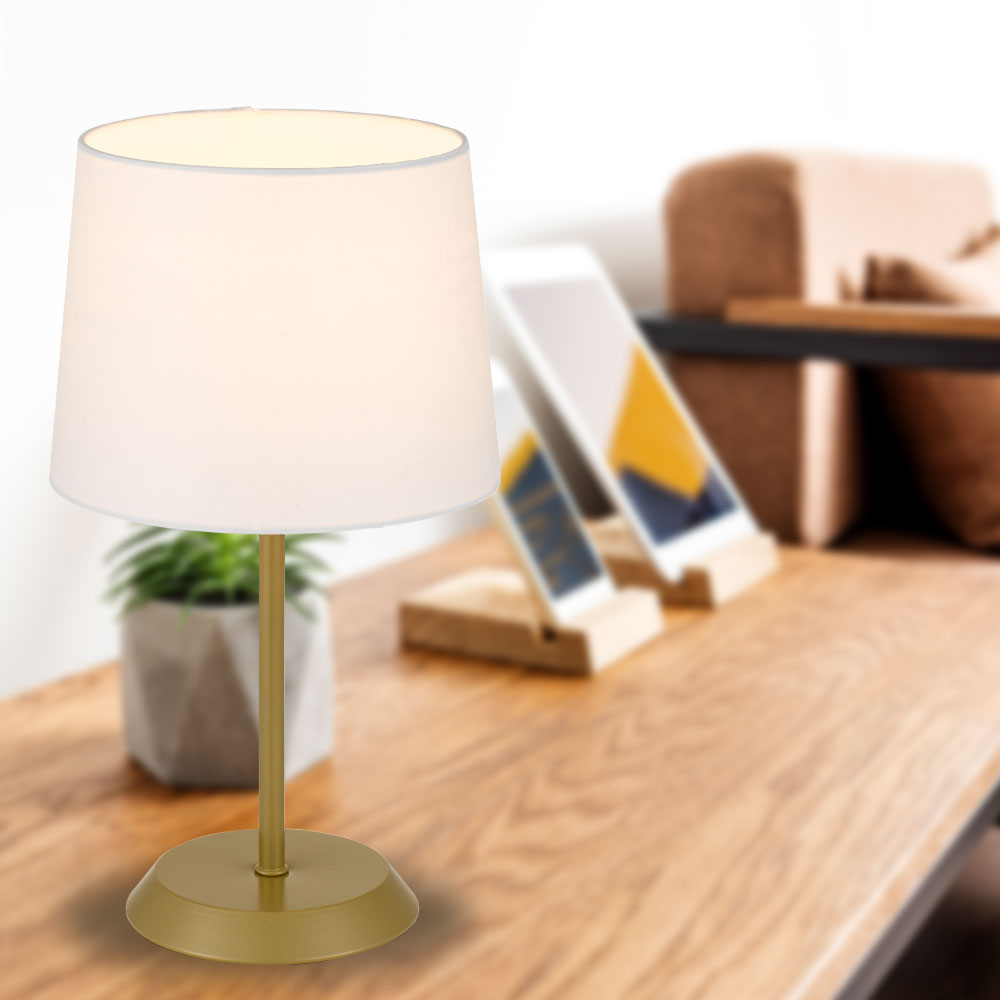 Colour and Material

Fixture Color

: Gold,Ivory

Fixture Material

: Metal,Fabric

Fixture Pantone Color

: RAL 1036

Base Color

: Gold

Base Material

: Metal

Cable Color

: Black

Cable Material

: PVC

Shade Color

: Ivory

Shade Material

: Fabric,Plastic
Size

Fixture Diameter (cm)

: 22.50

Fixture Height (cm)

: 40.00

Base Diameter (cm)

: 15.00

Cable Length (cm)

: 150 (20+Inline Switch+120)

Shade Bottom (cm)

: 22.50

Shade Fitting

: E27 (42mm HOLE)
Specifications

Approvals

: RCM

Dimmable

: Globe Dependant

Electrical Protection

: CLASS II - DOUBLE INSULATED, EARTH NOT REQUIRED

Globe / Light Source qty

: 1

Globe Type

: E27

IP Rating

: IP20

Wattage (max)

: 25
Product Maintenance

Care Instructions

: Do not use strong liquid cleaners,Wipe clean with a dry cloth
Dimensions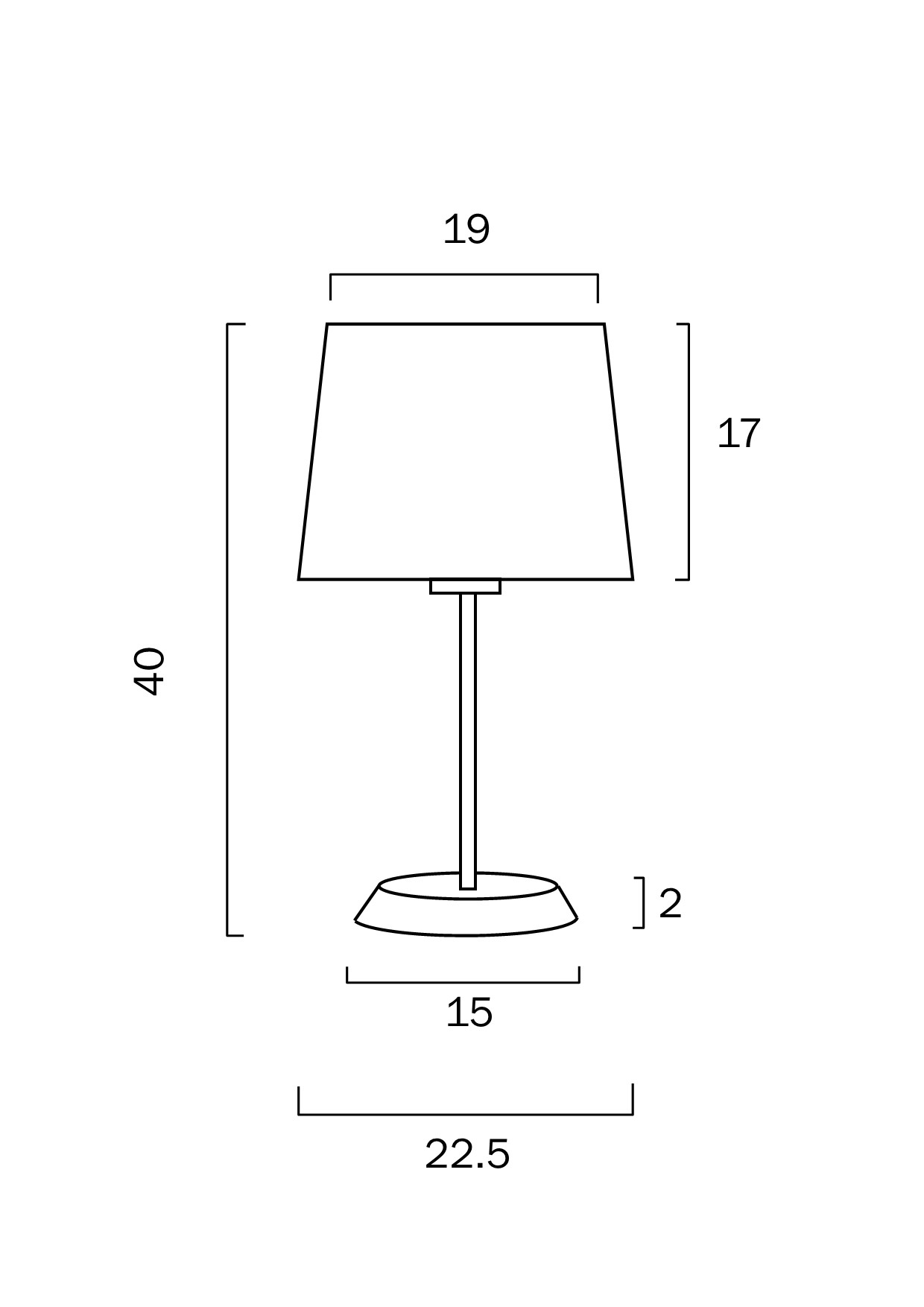 Downloads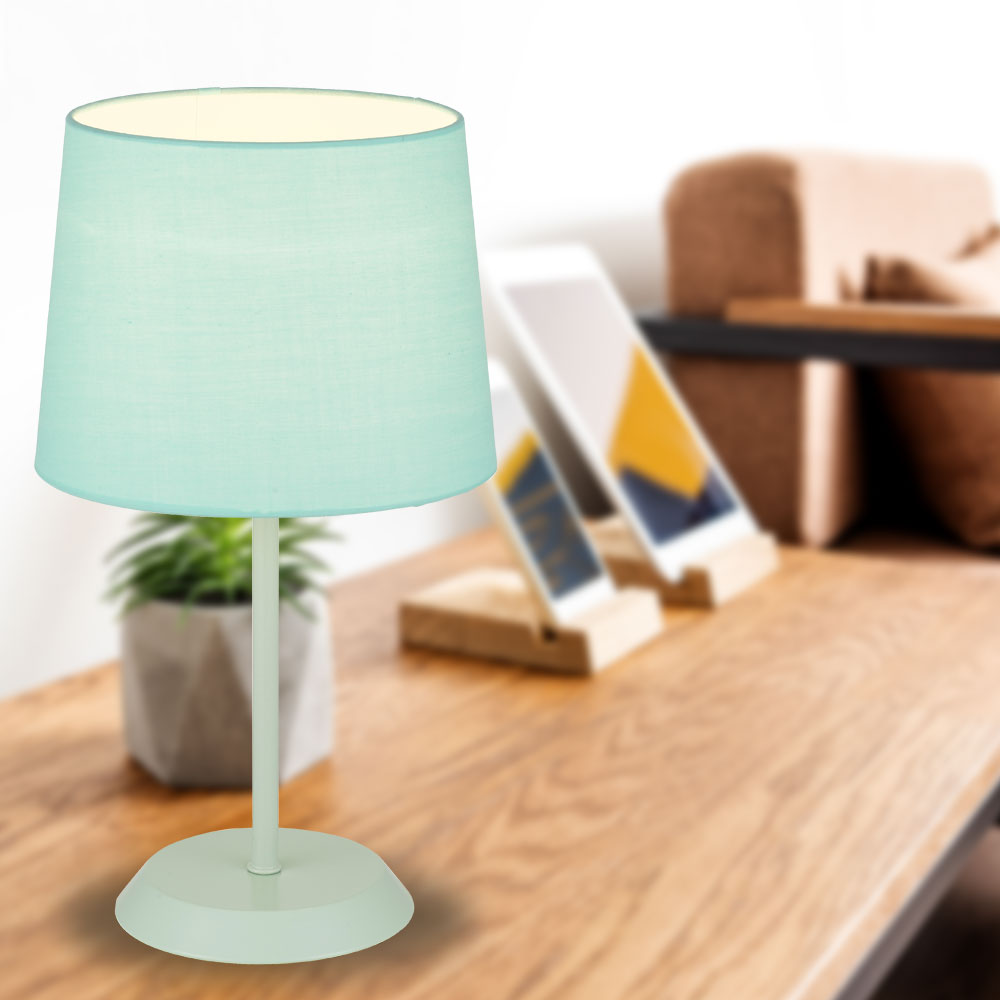 Colour and Material

Fixture Color

: Green

Fixture Material

: Metal,Fabric

Fixture Pantone Color

: RAL 6019

Base Color

: Green

Base Material

: Metal

Cable Color

: Black

Cable Material

: PVC

Shade Color

: Green

Shade Material

: Fabric,Plastic
Size

Fixture Diameter (cm)

: 22.50

Fixture Height (cm)

: 40.00

Base Diameter (cm)

: 15.00

Cable Length (cm)

: 150 (20+Inline Switch+120)

Shade Bottom (cm)

: 22.50

Shade Fitting

: E27 (42mm HOLE)
Specifications

Approvals

: RCM

Dimmable

: Globe Dependant

Electrical Protection

: CLASS II - DOUBLE INSULATED, EARTH NOT REQUIRED

Globe / Light Source qty

: 1

Globe Type

: E27

IP Rating

: IP20

Wattage (max)

: 25
Product Maintenance

Care Instructions

: Do not use strong liquid cleaners,Wipe clean with a dry cloth
Dimensions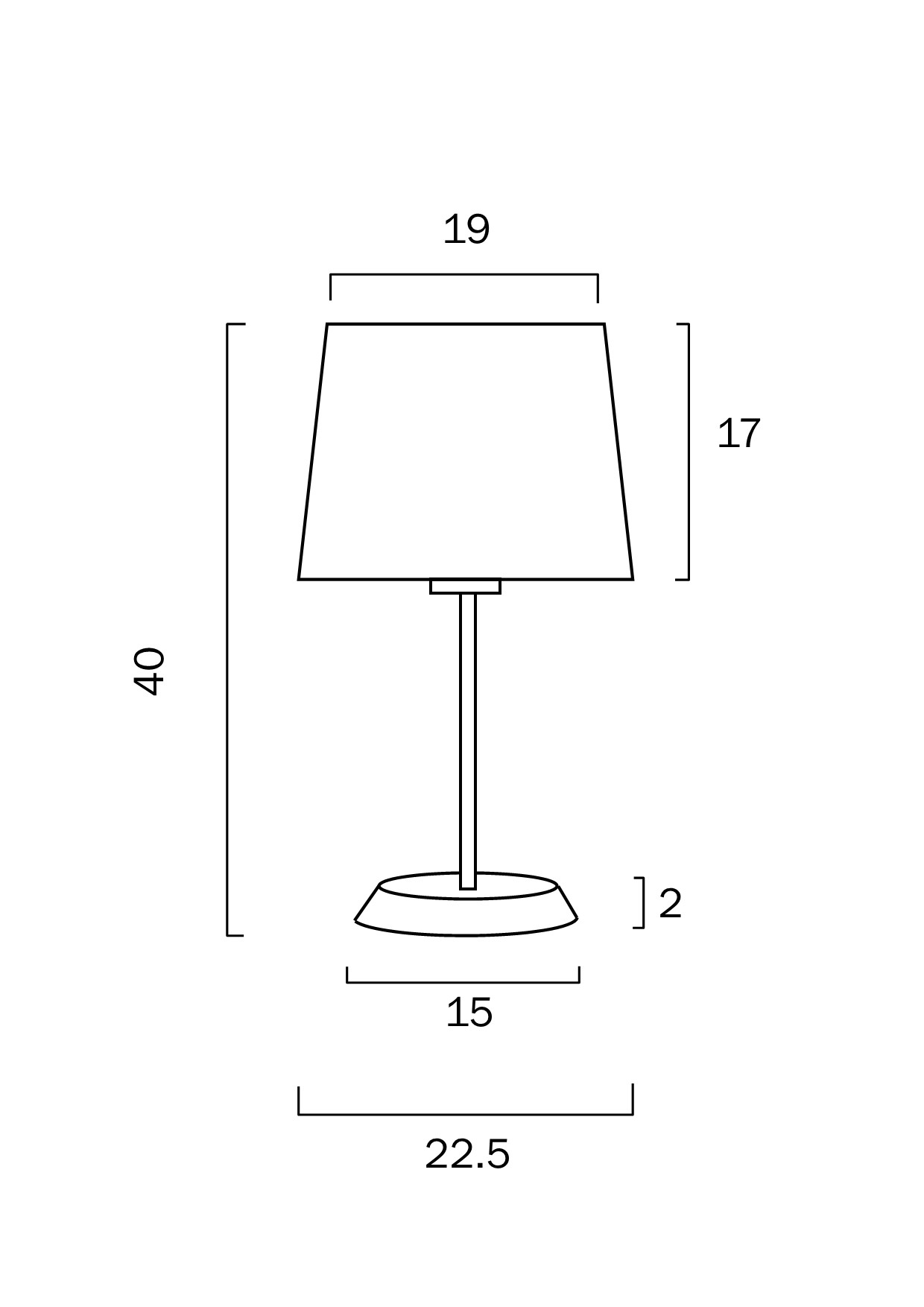 Downloads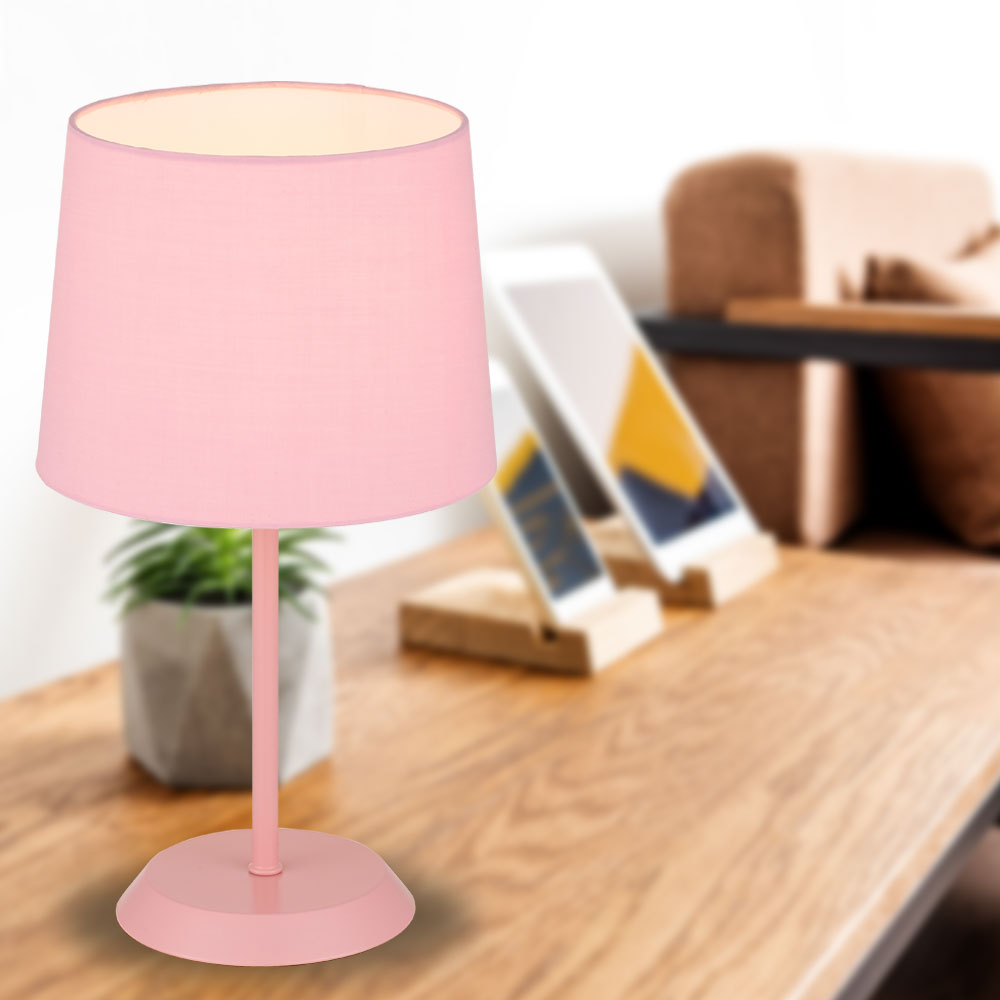 Colour and Material

Fixture Color

: Pink

Fixture Material

: Metal,Fabric

Fixture Pantone Color

: RAL 3015

Base Color

: Pink

Base Material

: Metal

Cable Color

: Black

Cable Material

: PVC

Shade Color

: Pink

Shade Material

: Fabric,Plastic
Size

Fixture Diameter (cm)

: 22.50

Fixture Height (cm)

: 40.00

Base Diameter (cm)

: 15.00

Cable Length (cm)

: 150 (20+Inline Switch+120)

Shade Bottom (cm)

: 22.50

Shade Fitting

: E27 (42mm HOLE)
Specifications

Approvals

: RCM

Dimmable

: Globe Dependant

Electrical Protection

: CLASS II - DOUBLE INSULATED, EARTH NOT REQUIRED

Globe / Light Source qty

: 1

Globe Type

: E27

IP Rating

: IP20

Wattage (max)

: 25
Product Maintenance

Care Instructions

: Do not use strong liquid cleaners,Wipe clean with a dry cloth
Dimensions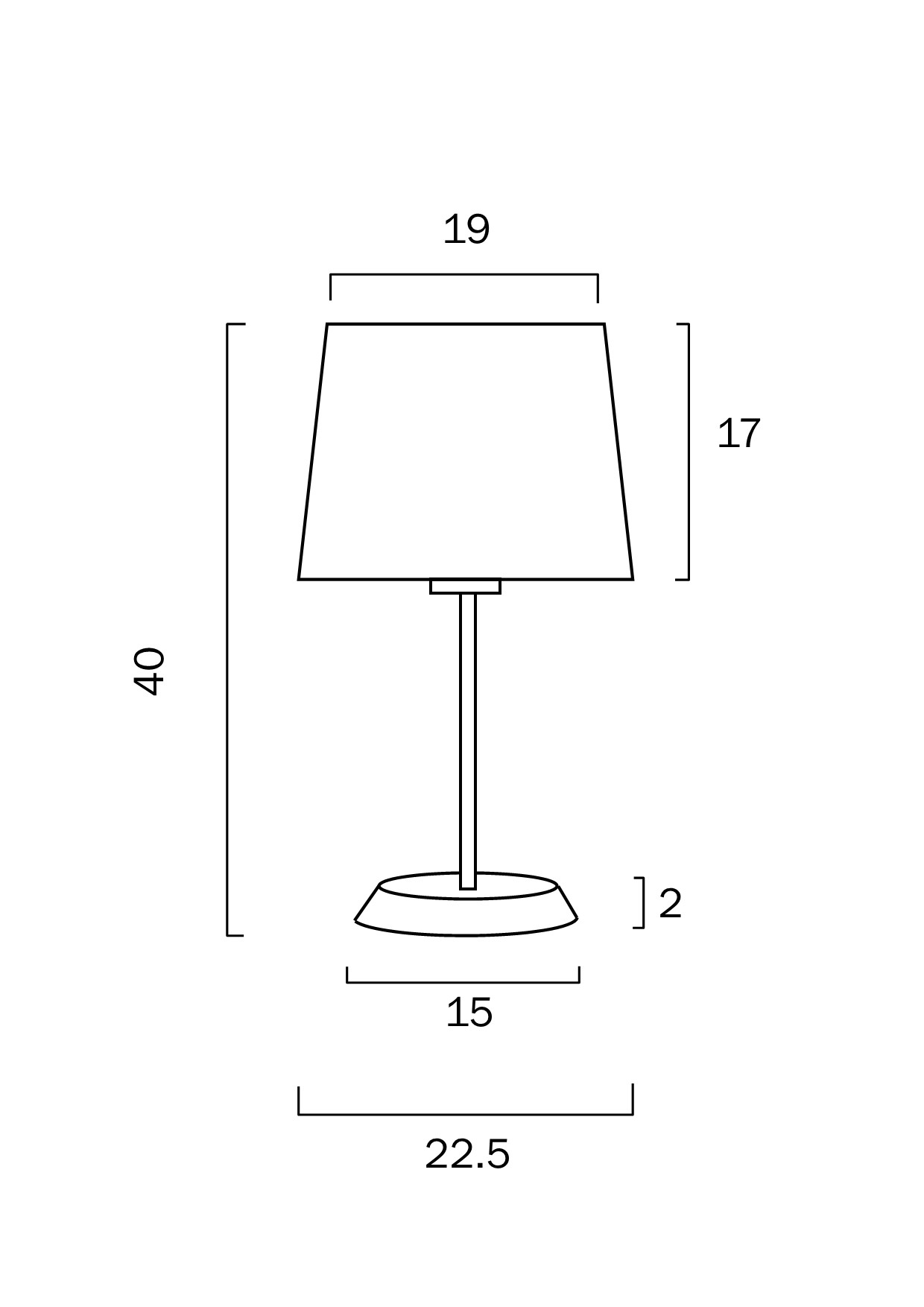 Downloads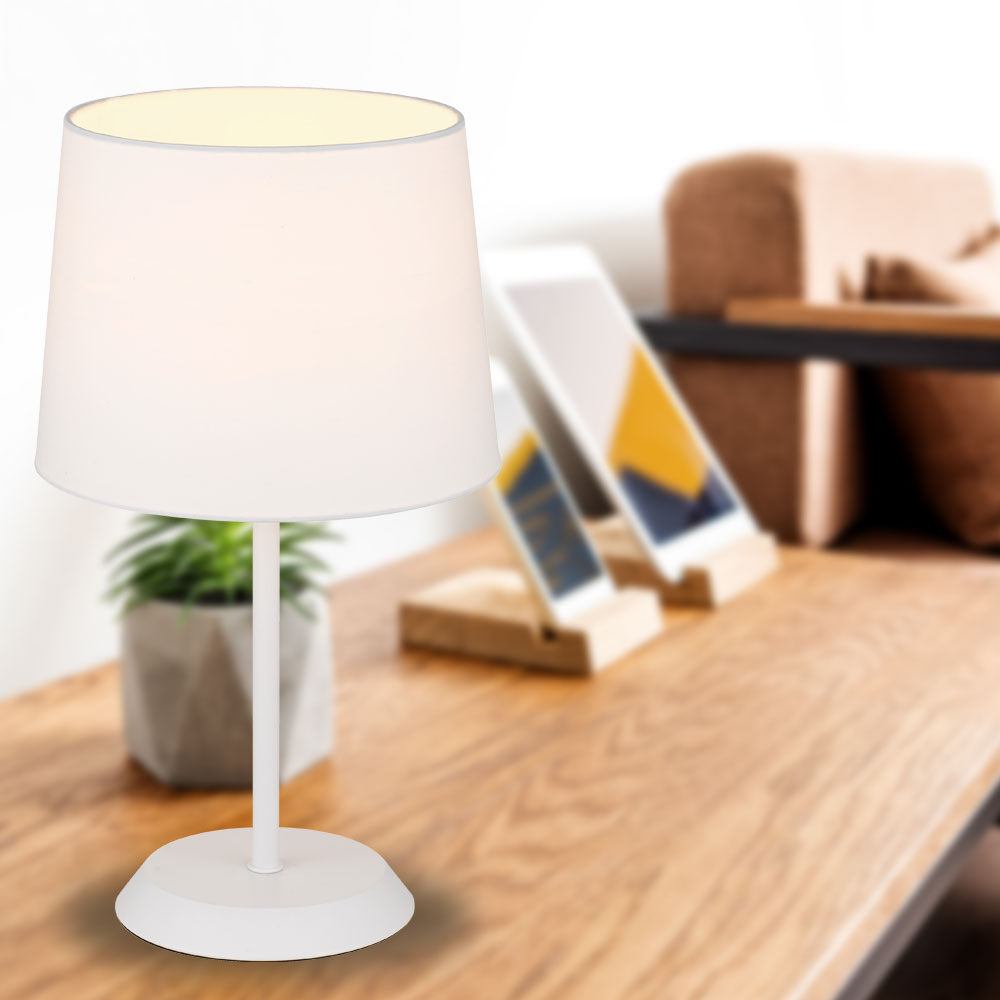 Colour and Material

Fixture Color

: White

Fixture Material

: Metal,Fabric

Fixture Pantone Color

: RAL 9003

Base Color

: White

Base Material

: Metal

Cable Color

: Black

Cable Material

: PVC

Shade Color

: White

Shade Material

: Fabric,Plastic
Size

Fixture Diameter (cm)

: 22.50

Fixture Height (cm)

: 40.00

Base Diameter (cm)

: 15.00

Cable Length (cm)

: 150 (20+Inline Switch+120)

Shade Bottom (cm)

: 22.50

Shade Fitting

: E27 (42mm HOLE)
Specifications

Approvals

: RCM

Dimmable

: Globe Dependant

Electrical Protection

: CLASS II - DOUBLE INSULATED, EARTH NOT REQUIRED

Globe / Light Source qty

: 1

Globe Type

: E27

IP Rating

: IP20

Wattage (max)

: 25
Product Maintenance

Care Instructions

: Do not use strong liquid cleaners,Wipe clean with a dry cloth
Dimensions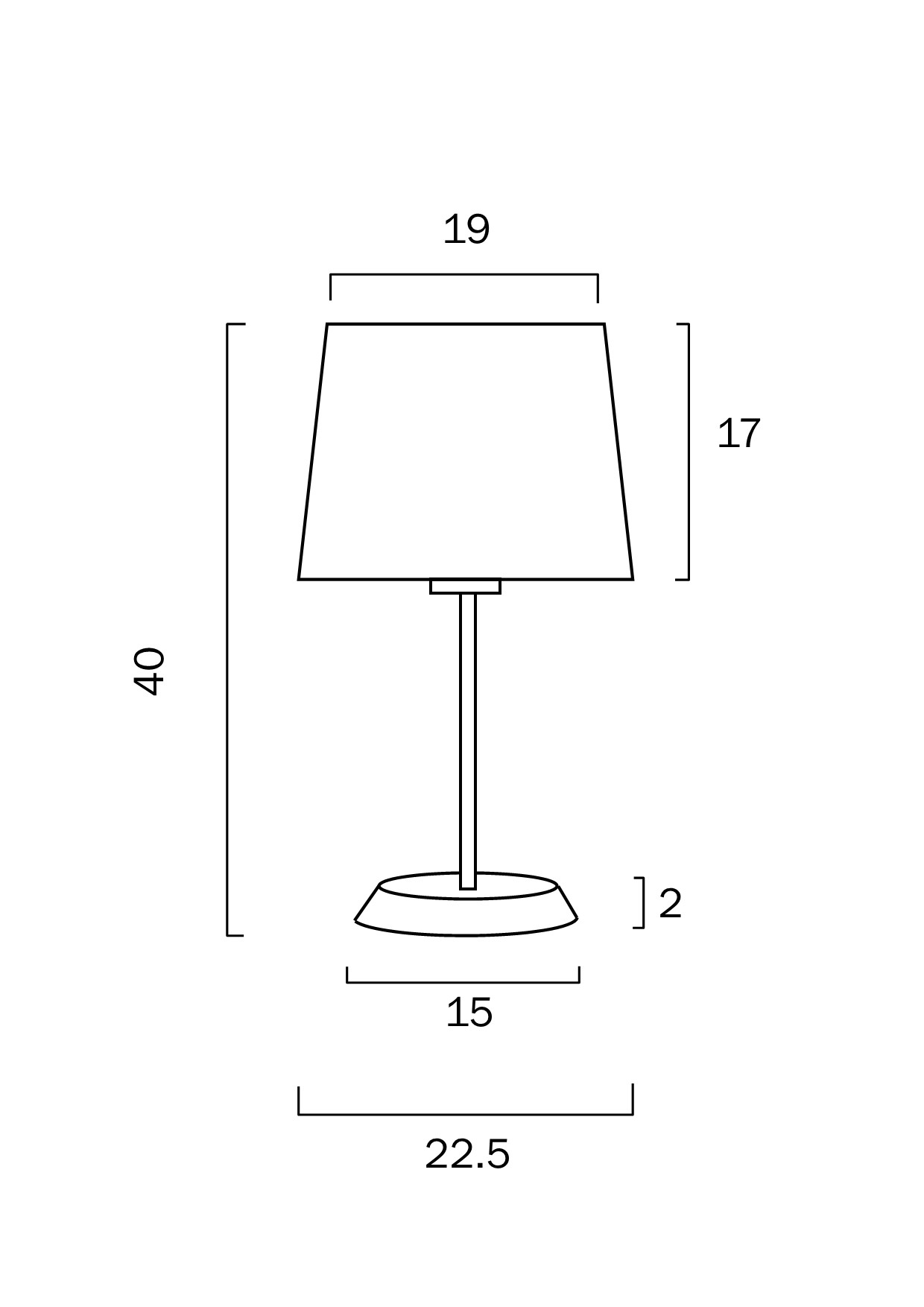 Downloads