The Illume Series Security Spotlight is a practical and functional lighting solution for enhancing the security of your home or business. With the option to choose from a spotlight with or without a movement sensor, the Illume Series offers customizable security lighting. The 270-degree swivelling feature allows for maximum coverage and versatility in positioning. The robust aluminium and polycarbonate construction provides durability and protection against the elements. The Illume Series Security Spotlight is a reliable and effective way to improve the safety and security of your property.
Regular price
RRP
$92.00
/
Out of Stock
Estimated arrival date: 15-DEC-2023
---
Telbix is a wholesale business only. If you're interested in purchasing one of our products as an individual, please visit one of our excellent authorised distributors.
FIND AUTHORISED DISTRIBUTOR
Colour and Material

Fixture Color

: Black

Fixture Material

: Aluminium,Polycarbonate

Canopy Color

: Black
Size

Fixture Height (cm)

: 12.10

Fixture Length (cm)

: 22.50

Fixture Projection (cm)

: 18.50

Base Diameter (cm)

: 12.10
Specifications

Approvals

: RCM

Box Contents (degree)

: Basic mounting screws,Instruction

Color Kelvin

: 5000k

Color Rendering

: >80

Color Temperature

: Cool White

Dimmable

: No

Globe / Light Source included

: Yes

Globe / Light Source qty

: 2

Globe Type

: LED integrated SMD

Installation Required

: Yes (by Licensed Electrician only)

IP Rating

: IP44

Lead and Plug

: No

Lumens

: 1600

Power Factor

: >0.90

Surge Protection

: Yes (1 Kva)

Voltage Input

: 240V

Replacement Warranty

: *3 Years

Wattage

: 10

Wattage (max)

: 20
Product Maintenance

Care Instructions

: Do not use strong liquid cleaners,Wipe clean with a dry cloth
Dimensions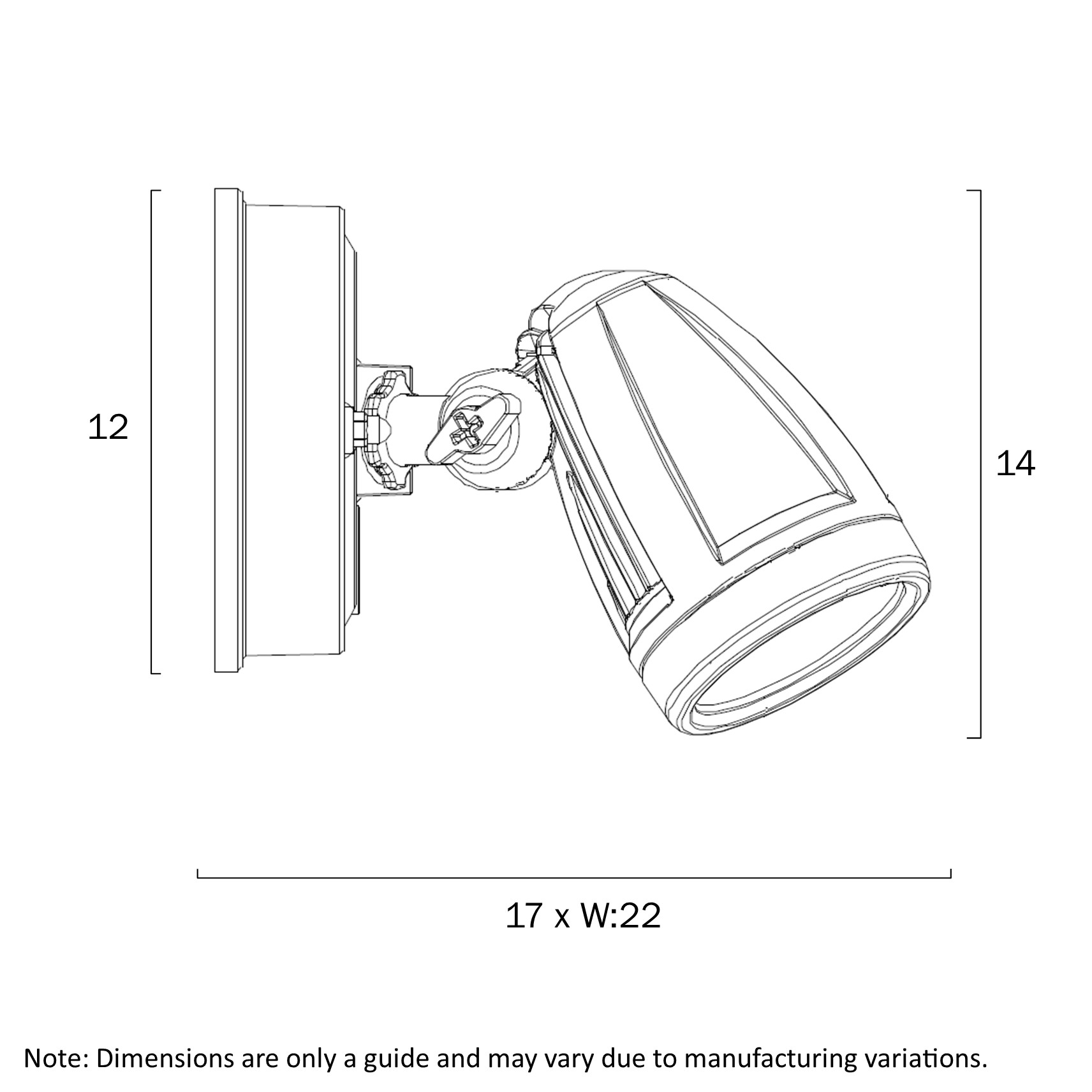 Downloads
Colour and Material

Fixture Color

: Silver

Fixture Material

: Aluminium,Polycarbonate

Canopy Color

: Silver
Size

Fixture Height (cm)

: 12.10

Fixture Length (cm)

: 22.50

Fixture Projection (cm)

: 18.50

Base Diameter (cm)

: 12.10
Specifications

Approvals

: RCM

Box Contents (degree)

: Basic mounting screws,Instruction

Color Kelvin

: 5000k

Color Rendering

: >80

Color Temperature

: Cool White

Dimmable

: No

Globe / Light Source included

: Yes

Globe / Light Source qty

: 2

Globe Type

: LED integrated SMD

Installation Required

: Yes (by Licensed Electrician only)

IP Rating

: IP44

Lead and Plug

: No

Lumens

: 1600

Power Factor

: >0.90

Surge Protection

: Yes (1 Kva)

Voltage Input

: 240V

Replacement Warranty

: *3 Years

Wattage

: 10

Wattage (max)

: 20
Product Maintenance

Care Instructions

: Do not use strong liquid cleaners,Wipe clean with a dry cloth
Dimensions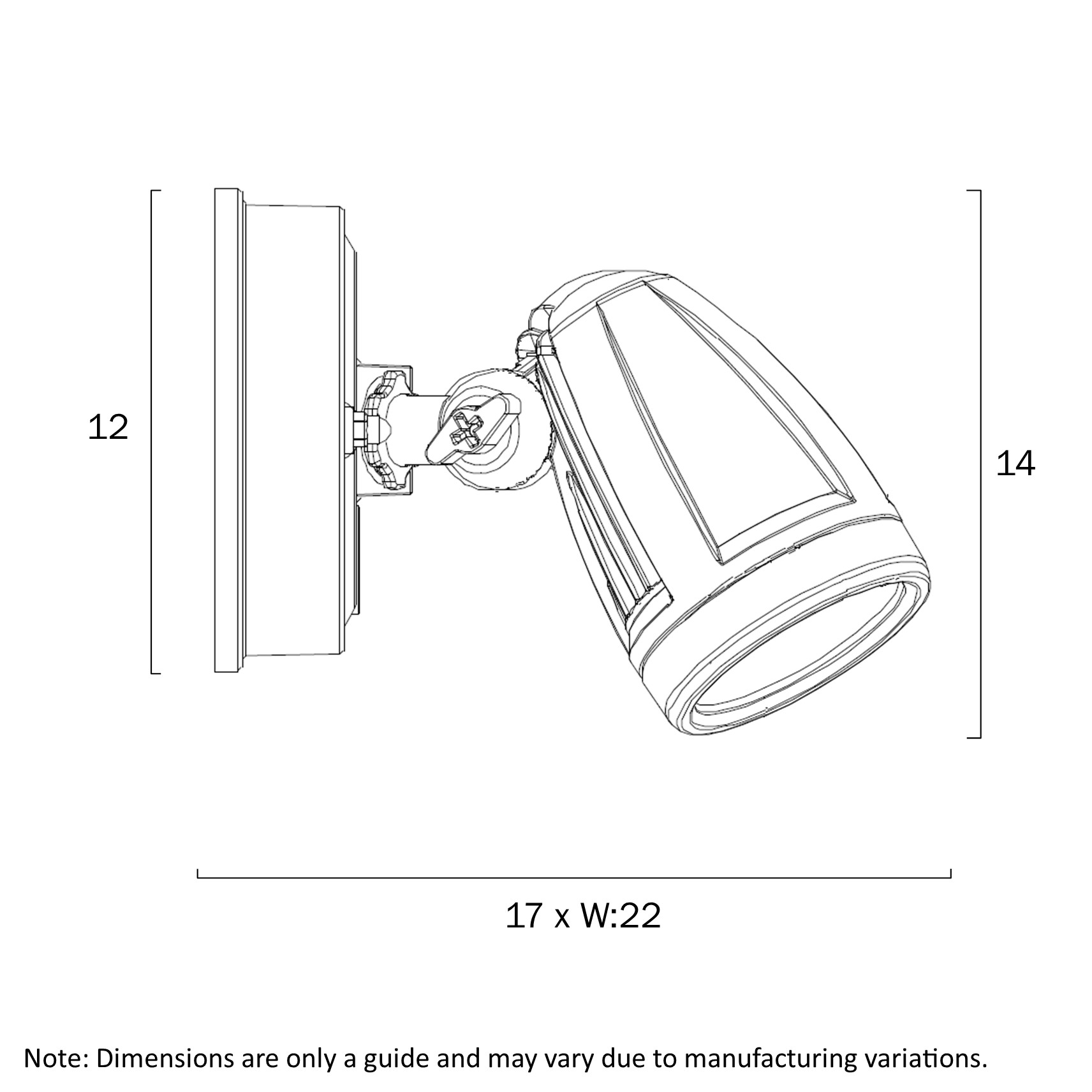 Downloads
Colour and Material

Fixture Color

: White

Fixture Material

: Aluminium,Polycarbonate

Canopy Color

: White
Size

Fixture Height (cm)

: 12.10

Fixture Length (cm)

: 22.50

Fixture Projection (cm)

: 18.50

Base Diameter (cm)

: 12.10
Specifications

Approvals

: RCM

Box Contents (degree)

: Basic mounting screws,Instruction

Color Kelvin

: 5000k

Color Rendering

: >80

Color Temperature

: Cool White

Dimmable

: No

Globe / Light Source included

: Yes

Globe / Light Source qty

: 2

Globe Type

: LED integrated SMD

Installation Required

: Yes (by Licensed Electrician only)

IP Rating

: IP44

Lead and Plug

: No

Lumens

: 1600

Power Factor

: >0.90

Surge Protection

: Yes (1 Kva)

Voltage Input

: 240V

Replacement Warranty

: *3 Years

Wattage

: 10

Wattage (max)

: 20
Product Maintenance

Care Instructions

: Do not use strong liquid cleaners,Wipe clean with a dry cloth
Dimensions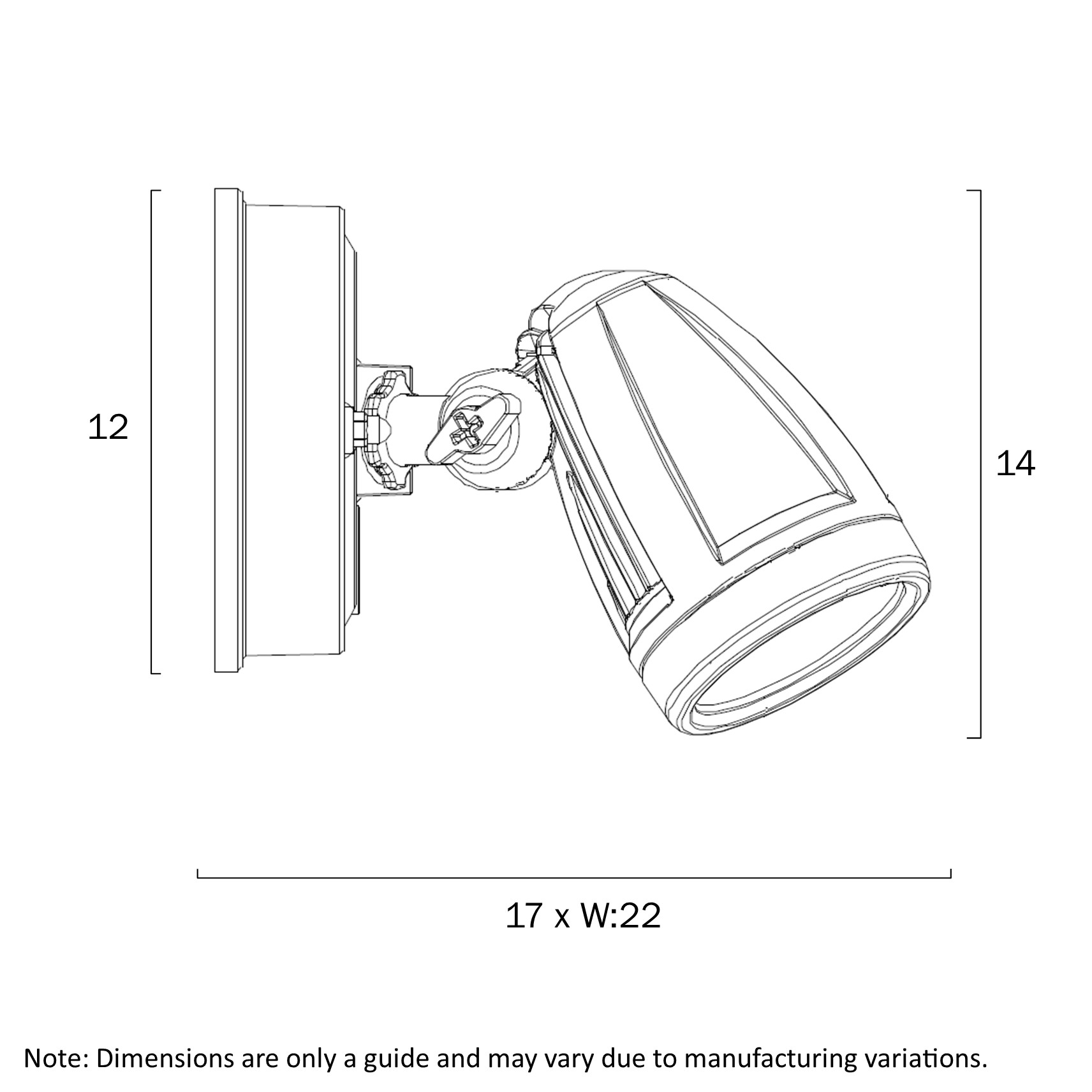 Downloads