The FEVIK table lamp is a modern and on-trend lighting option for any room in your home. This lamp is available with a terrazzo or concrete base, adding a touch of industrial and minimalistic style to the design. The matching fabric shade provides a warm, diffused light, making it perfect for reading or relaxing. The lamp comes in two different sizes, allowing you to choose the one that best fits your space. With its unique combination of materials and design, the FEVIK table lamp is sure to be a stylish and functional addition to any room in your home, whether it's a living room, bedroom or office. Upgrade your space with this contemporary and stylish lamp.
Regular price
RRP
$149.00
/
Out of Stock
Estimated arrival date: 06-AUG-2023
---
Telbix is a wholesale business only. If you're interested in purchasing one of our products as an individual, please visit one of our excellent authorised distributors.
FIND AUTHORISED DISTRIBUTOR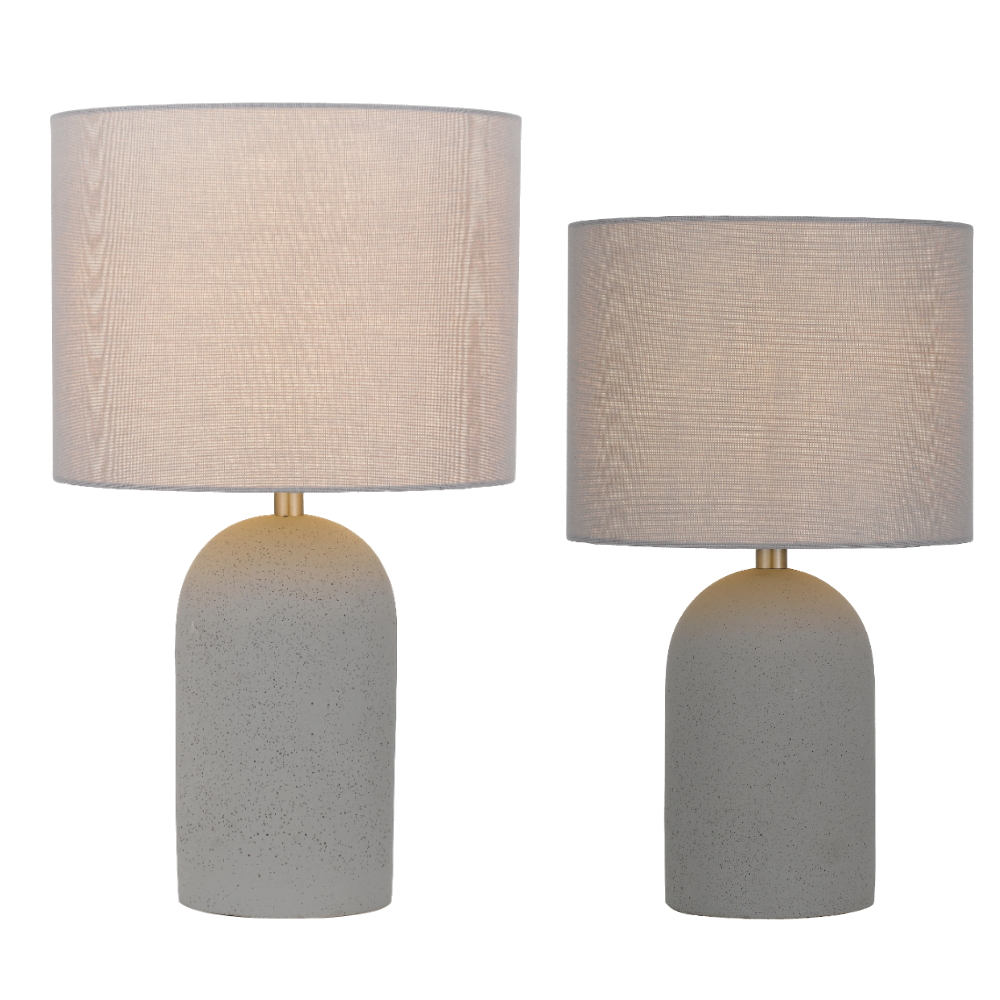 Colour and Material

Fixture Color

: Grey

Fixture Material

: Concrete,Fabric,Iron

Base Color

: Grey

Base Material

: Concrete,Iron

Cable Color

: Black

Cable Material

: PVC

Shade Color

: Grey

Shade Material

: Linen,Plastic
Size

Fixture Diameter (cm)

: 30.00

Fixture Height (cm)

: 50.00

Fixture Weight (Kg)

: 4.00

Base Diameter (cm)

: 14.00

Base Height (cm)

: 27.00

Cable Length (cm)

: 180 (30+Inline Switch+150)

Shade Diameter (cm)

: 30.00

Shade Fitting

: E27 (42mm HOLE)
Specifications

Approvals

: RCM

Dimmable

: Globe Dependant

Electrical Protection

: CLASS II - DOUBLE INSULATED, EARTH NOT REQUIRED

Globe / Light Source qty

: 1

Globe Type

: E27

IP Rating

: IP20

Wattage (max)

: 25
Product Maintenance

Care Instructions

: Do not use strong liquid cleaners,Wipe clean with a dry cloth
Dimensions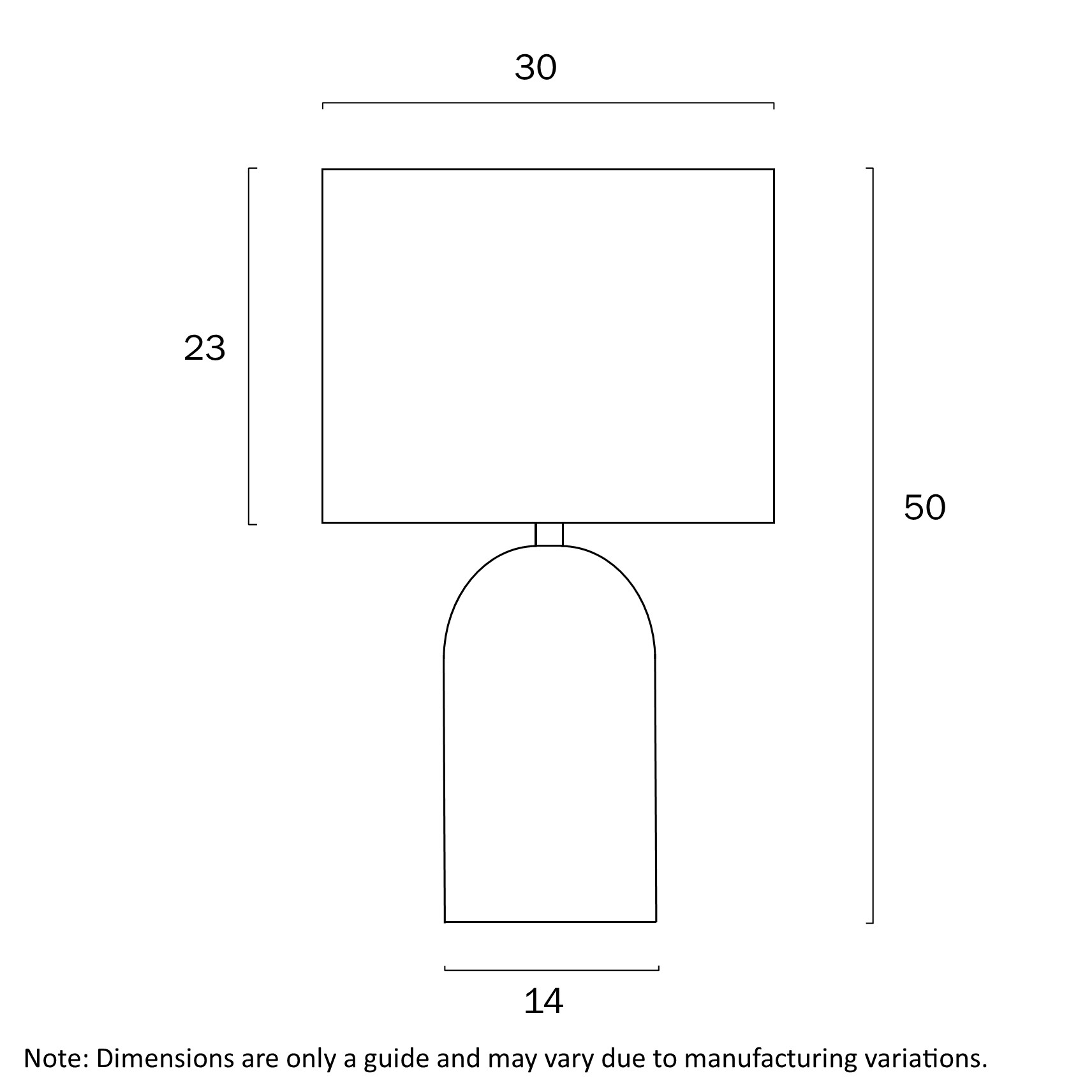 Downloads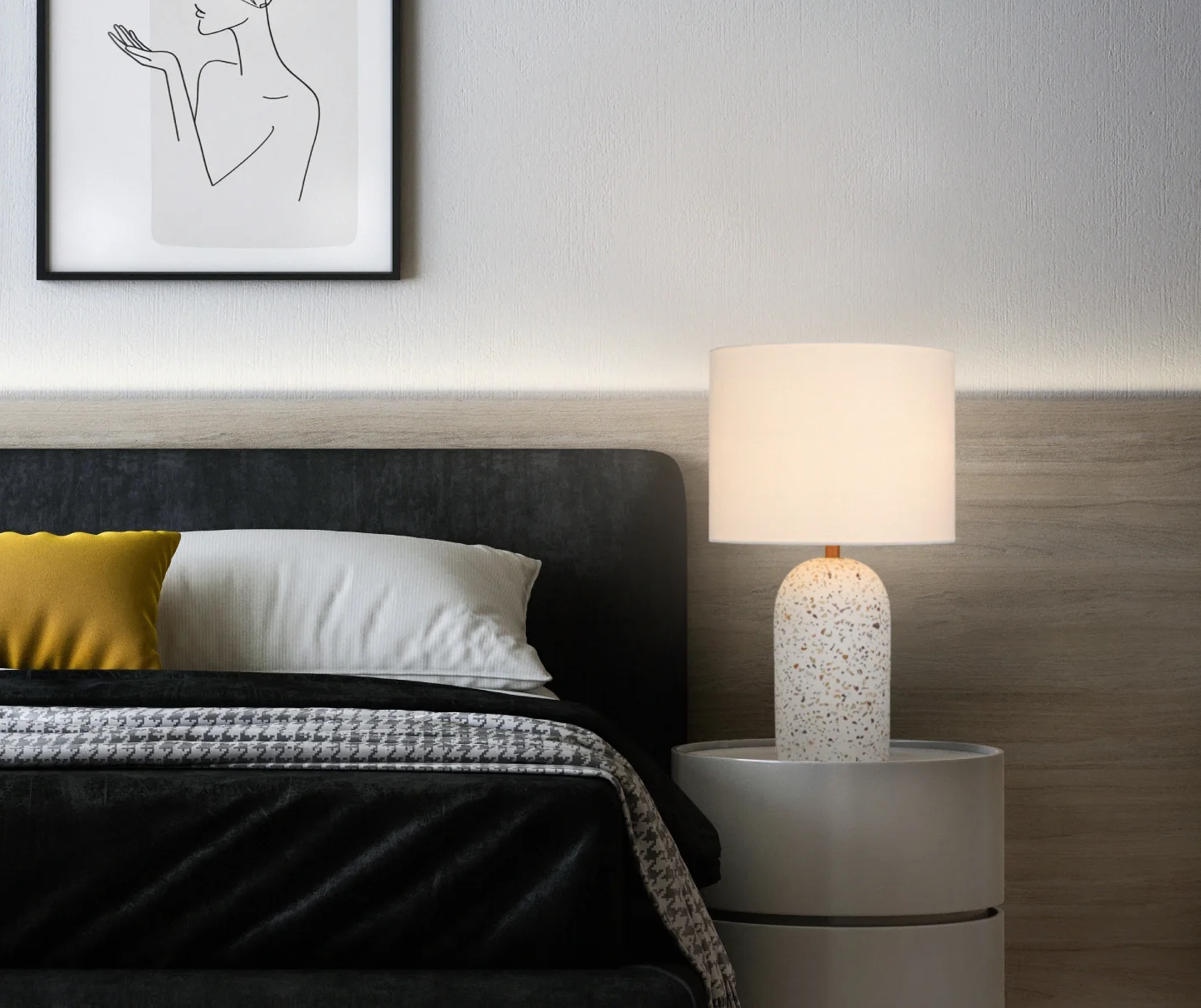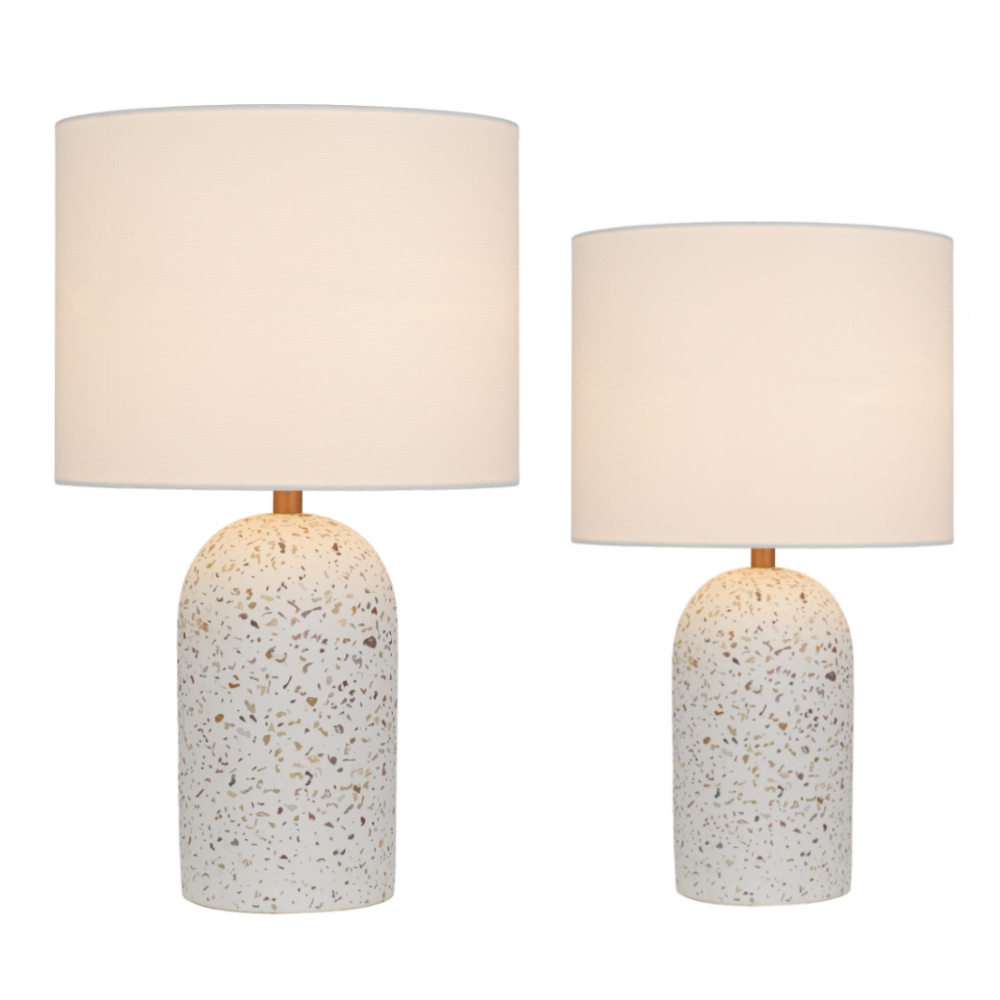 Colour and Material

Fixture Color

: Ivory,White

Fixture Material

: Fabric,Iron,Terrazzo

Base Color

: White Terrazzo

Base Material

: Iron,Terrazzo

Cable Color

: Black

Cable Material

: PVC

Shade Color

: Ivory

Shade Material

: Linen,Plastic
Size

Fixture Diameter (cm)

: 30.00

Fixture Height (cm)

: 50.00

Fixture Weight (Kg)

: 4.00

Base Diameter (cm)

: 14.00

Base Height (cm)

: 27.00

Cable Length (cm)

: 180 (30+Inline Switch+150)

Shade Diameter (cm)

: 30.00

Shade Fitting

: E27 (42mm HOLE)
Specifications

Approvals

: RCM

Dimmable

: Globe Dependant

Electrical Protection

: CLASS II - DOUBLE INSULATED, EARTH NOT REQUIRED

Globe / Light Source qty

: 1

Globe Type

: E27

IP Rating

: IP20

Wattage (max)

: 25
Product Maintenance

Care Instructions

: Do not use strong liquid cleaners,Wipe clean with a dry cloth
Dimensions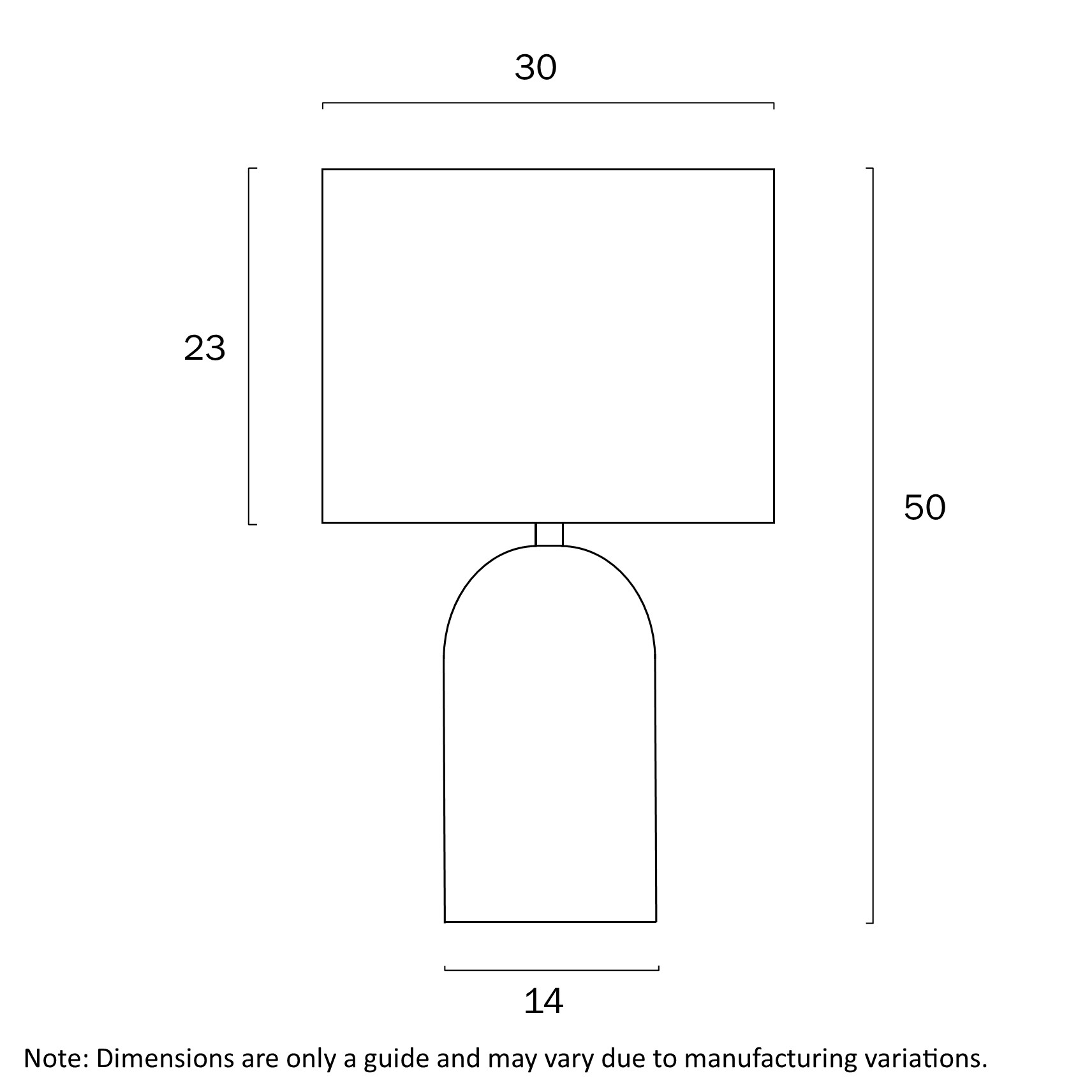 Downloads