Telbix helps The Block winners Shay & Dean build their dream home
In an exciting leap into the world of interior design and home illumination, Telbix proudly announces its collaboration with the talented duo.
Known for their stunning victory on The Block Season 11, Shay and Dean transformed a penthouse apartment into a masterpiece and walked away with an impressive $755,000. They have proven their creative prowess and Telbix could not resist supporting them with their new project: building their dream home in country NSW.
Kade Pendant 20cm
Chosen by Shay in Antique Gold
VIEW COLLECTION
Frya Pendant 40cm
VIEW COLLECTION
After their triumphant win, the dynamic couple embarked on a journey that led them to new horizons. They expanded their family, embraced a nomadic lifestyle, exploring the vast landscapes of Australia while caravaning. However, it was their dream of creating a tranquil haven that drew them to a picturesque farm in country NSW.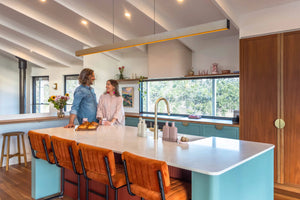 Chosen by Shay in Gold and Black (2.4m)
The collaboration is an embodiment of Telbix's commitment to innovation, aesthetics, and functionality. Shay's meticulous attention to detail, coupled with Dean's innovative structural ideas, resonates perfectly with Telbix's vision of creating lighting solutions that elevate living spaces.
Eterna Wall Light (2 Lights)
Chosen by Shay in Antique Gold
VIEW COLLECTION
Marsten Wall Light
Chosen by Shay in Antique Gold
View Collection
As Shay and Dean embark on their journey to renovate their dream home, Telbix is honoured to play a role in illuminating their creative vision. From pendant lights that cast a warm glow over the rustic kitchen to statement chandeliers that adorn the charming living spaces, Telbix's diverse range of lighting fixtures adds a touch of elegance and character to each corner of their abode.

A special thank you to Shay and Dean for working with us on this dream build. We look forward to seeing your next project!
🛠️ Shay & Dean
Shay and Dean are The Block Winners and loving parents of Evy, Vinnie, and Mo. They have recently started building their dream home in country NSW.
VIEW INSTAGRAM
📷 David Rogers
David Rogers is landscape photographer currently based in NSW. David spent his youth rock-hopping along unspoiled coastlines and exploring the pristine wilderness areas.
VIEW INSTAGRAM